Designing Our Secure Future 2017: Event Highlights
FIRST NATION ELDER – MONIQUE MANATCH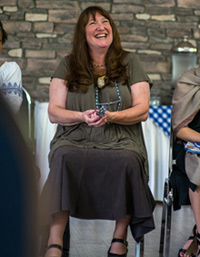 On the opening day of the convening, Our Secure Future and Nobel Women's Initiative were honored to receive the blessings of Monique Manatch, an indigenous elder and member of the Algonquins of Barriere Lake. Ms. Manatch spoke about the connection between women peacebuilders advancing the Women, Peace and Security agenda, and the indigenous women who work as healers in the First Nations tradition. She remarked on the parallel path shared by WPS activists worldwide and First Nations women in Canada, and blessed the intention of our group to create a more peaceful world. Her blessings carried even more weight given the location of our convening: Ottawa, Canada is unceded Algonquin territory.
Monique Manatch is a member of the Algonquins of Barriere Lake, also referred to as Rapid Lake, located 130km north of Maniwaki. She is active in the arts, particularly with regards to youth programming, and is also working on a project to preserve indigenous languages using digital technology as part of her Master's research.
Ms. Manatch resides in Aylmer, Quebec with her 15-year-old son.

KEYNOTE SPEAKER – NOBEL LAUREATE JODY WILLIAMS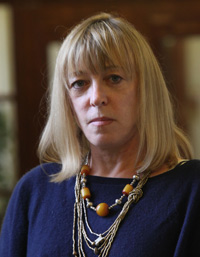 Nobel Laureate Jody Williams joined the group via Skype on the 2nd day of the convening to talk about "Disruption by Design." The idea of disruption by design is integral to making small shifts into new behaviors that promote peace. Often, the most dramatic cultural shifts appear to happen overnight—but in reality, these changes happen through intentional and incremental action that leads to long-term transformation. In the context of "disruption by design," Ms. Williams talked about the need to shift conversations about definitions of security from national security to human security, and to strengthen individual action through collective impact. She noted that the success of the campaign to ban landmines rested squarely on the constant communication and close network of people and organizations who were working to ban landmines all over the world. Participants agreed: in the context of advancing the Women, Peace and Security agenda, successful disruption requires communication, clarity, and a unified vision.
Jody Williams won the Nobel Peace Prize in 1997 for her work on the International Campaign to Ban Landmines. At that time, she became the 10th woman – and third American woman – in its almost 100-year history to receive the Prize. The Chair of Nobel Women's Initiative, Ms. Williams travels the world advocating for human rights – particularly self-determination and women's rights. She is globally recognized for her contributions to peace and security, including through a current campaign to ban killer robots. In 2013, she published My Name is Jody Williams: A Vermont Girl's Winding Path to the Nobel Peace Prize.
Since her protests of the Vietnam War, she has been a lifelong advocate of freedom, self-determination and human and civil rights.
ROUNDTABLE AT GLOBAL AFFAIRS CANADA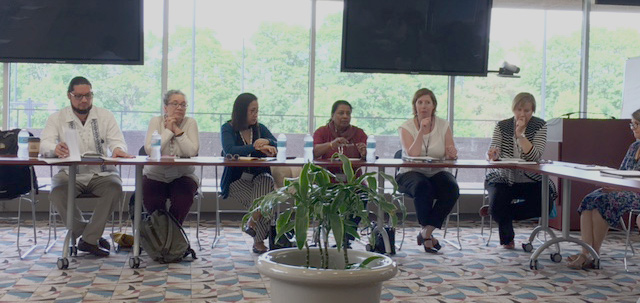 Immediately following the convening, Our Secure Future and Nobel Women's Initiative were invited to offer guidance to Global Affairs Canada on opportunities and challenges to implementing WPS on the ground. The roundtable discussion was chaired by Caroline Delany, Director of Planning and Deployments Division in Global Affairs Canada, and Beth Woroniuk of the Women, Peace and Security Network Canada, and included four panelists: Rosa Emilia Salamanca (Colombia), Visaka Dharmadasa (Sri Lanka), Mavic Cabrera-Balleza (NY/Philippines), and Rodolfo Dominguez Marquez (Mexico) – all of whom participated in Designing Our Secure Future. Topics discussed were a new vision for security, support for new funding structures for women-led peacebuilding, and what a feminist international agenda should aspire to be.
For further information, Ellen Friedman, a participant at Designing Our Secure Future who also attended the session at Global Affairs Canada, recently published a blog in which she outlined Canada's new feminist international assistance policy, as well as some of the specific recommendations made by other Designing Our Secure Future participants. "Seeds of Peace" is available to read on the Compton Foundation's website.